Rolf Möller - Dipl. Restaurator / Designer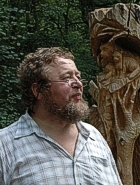 Neben seiner freiberuflichen Tätigkeit als Dipl. Restaurator / Designer im Bereich Architektur- und Raumfassungen und Wandmalereien, informiert Rolf Möller mit Restauratoren-Fachbeiträgen unsere Netzwerkmitglieder als Geschäftsführer der anuvito GmbH.
Nach dem Studium an der Fachhochschule für Werbung und Gestaltung (Berlin) in Potsdam mit der Spezialisierung Architektur- und Raumfassung und dem Abschluß
Dipl. Designer / Restaurator (FH),
hat Rolf Möller 1975 den zusätzlichen Abschluß als
Malermeister
erhalten.
Seine Arbeitsgebiete liegen va. im Bereich Untersuchung von
Architektur- und Raumfassungen, Wandmalereien
, Ausstattungselementen, Untersuchung von gefassten Skulpturen und Tafelbildern
sowie Erstellung von Restaurierungs- und Konservierungskonzepten,
Konservierung und Restaurierung von Wandmalereien
, Konservierung und Restaurierung von gefassten Holzskulpturen und Tafelbildern,
Erstellung von gestalterischen Konzeptionen für Fassaden und Innenräume basierend auf konservatorischen und restauratorischen Prinzipien und Ausführung der Gestaltkonzepte.
Viele weitere Details, Referenzen und Restaurierungsprojekte sehen Sie in seinem Romoe Restauratoren Profil unter:
https://www.romoe.com/de/app/profile/romoe
Anschrift:
Dipl. Designer / Restaurator
Rolf Möller
Mauer 3, 98530 Dillstädt
Deutschland, Thüringen


Telefon geschäftl.: 036846 60572
Telefon mobil: 0172 9762439
Website: restaurator.romoe.de
Are you an art-conservator or a restorer?
Create your free profile entry now
With detailed descriptions and references
No admission procedure
No compulsory fee with annual fee
Sign up now!
Benefits, Service and Prices