SITEFORUM - Smart Up Your Business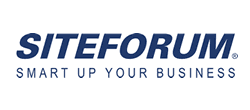 Anschrift:
SITEFORUM GmbH
Walkmuehlstr. 1a
99084 Erfurt, Germany
Telefon:
+49

361 666 15810

Ansprechpartner:

Internet:
Herr Mathias Möller

www.siteforum.com
Profil:
Das Romoe Restauratoren Netzwerk basiert auf der mehrfach ausgezeichneten SITEFORUM Cloud Technology Platform. Die seit 1998 entwickelte Plattform ermöglicht die Umsetzung, den sicheren Betrieb und die Skalierung Ihrer Online-Unternehmensprozesse.

Auszeichnungen von IT Analysten wie Gartner, die Berechtigung durch das Bundesamt für Sicherheit in der Informationstechnologie (BSI) für E-Government Projekte und unsere Erfahrung mit langjährigen Kunden und deren Millionen von Nutzern stärken das Fundament.

Alle für Ihre Bedürfnisse erforderlichen Technologien sowie die für Ihre individuellen Anforderungen notwendigen Entwicklungswerkzeuge sind in der Plattform integriert. Mit diesem Fundament meistern Sie Ihre Herausforderungen im dynamischen Online-Geschäft langfristig.
Are you an art-conservator or a restorer?
Create your free profile entry now
With detailed descriptions and references
No admission procedure
No compulsory fee with annual fee
Sign up now!
Benefits, Service and Prices