President of VENIS STUDIOS Venizelos Gavrilakis
Person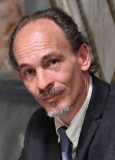 Ieri Parakatathiki Labs

Yeni Bayır Sokak 13
34445 Sütlüce/Beyoğlu
Greece, İstanbul
Senior Expert Conservator & Restorer of Historic Artworks & Antiquities. President of VENIS STUDIOS
Venizelos Gavrilakis was born in 1976 in Greece. He studied and specialized in conservation and restoration of Historic icons and oil paintings, Byzantine and Ottoman-era artworks on Mount Athos, Greece. He graduated from conservation and restoration fine art faculty certified by Ministry of Education, Research and Religious Affairs of Greece of "Artworks & Antiquities Conservation» and getting his Professional License from the Ministry of Education, Research & Religious Affairs of Greece. Furthermore, he also attended courses on conservation and restoration of oil paintings, gilded artworks and traditional techniques of gilding as well as polishing at the conservation fine art faculty of "Palazzo S pinelli" in Florence, Italy. Also, he has taken part in international conservation meetings and conferences in Greece, United States and Turkey.
Since 1994, and for the last 27 years, he has been working as a Senior Expert Conservator and Restorer of historic artworks, antiques and antiquities in Greece, Turkey and other parts of the world. He has assumed the conservation and restoration of numerous important Historic oil paintings (as "Aivazofsky", Nuri Iyem, etc) Byzantine and Ottoman-era paintings, icons panels (important Byzantine Icons since 13th century also from famous iconographer as "Theofanis", "Kornaros", etc.) frescoes, gold-plated polishers, wooden carving artworks, marquetry, textiles and other artworks (on marble, stone, metal, textile, paper, etc.), including antiquities (such as Fayoum portrait 2nd-3rd century BC, Byzantine oil lamps, crosses, glassware, etc.) in museums collections, churches, private collections, etc. He has served as director of conservation laboratories in Monasteries of Mount Athos in northern Greece, the Ecumenical Patriarchate of Constantinople and Halki Theological Seminary in Istanbul, but also as a teacher and supervisor for graduates of the French "École Supérieure d'Art d'Avignon" and the Italian School "Palazzo Spinelli", Florence, for practical training in Istanbul, as well as being a member of the Team "NGO Restaurateurs Sans Frontiers (RSF)" and "American Institute of Conservation (AIC)". Furthermore, he has taught courses in conservation and restoration of paintings at the Greek Archdiocese, delivering invaluable work as a photographer of historic artifacts and artworks on Mount Athos and in Istanbul. Also, he has collaborated with several galleries, antique dealers and private collectors. Finally, he was chief conservator, management and operator of the Conservation Department at the antique gallery "Myro Antiques House" in Greece.

In 2012, he founded – and has since then operated, together with his wife Vaia A. Karagianni – the Conservation and Restoration Laboratory of Historic Artworks, and Antiquities "Ieri Parakatathiki Labs". It is based in Istanbul while it has Greek departments, undertaking any kind of Conservation and Restoration project where ever in the world requested. In October 2021 they have been invited by the Holiness Archbishop of America Elpidiforos to Conserve and Restore a 19th century Icon of St. Nikolas at Manhattan in New York for the visit of the Ecumenical Orthodox Patriarch Mr. Bartholomew in the United States in 2021.
Venizelos G. Gavrilakis delivered lectures at "Mimar Sinan University of Fine Arts", at "Istanbul University", while also in other schools and fine art faculties in Istanbul. Finally, they published also article on IIC (International Institute of Conservation) and in other local and international magazines and newspapers in Greece, Turkey Europe, etc. In addition, he is writing subjects related to historic artifacts conservation and restoration, which have appeared on their laboratory's blog "Peri Sintirisis o Logos", In 2021 he is giving a lecture to the 5th National Istanbul Heritage Fair & Conference. While also he is participating as a lecturer on worldwide culture heritage conservation and restoration conference, forum, etc.
In December 2021 Venizelos Gavrilakis and VENIS STUDIOS was photographed while they were working on restoration and conservation project by "Getty Images" agency and also interviewed by "REUTERS" agency and their photo and his interview has been published worldwide (United States, Europe, Turkey, Asia, India, Indonesia, China, Africa, Australia, etc.) in plenty of worldwide television channel like "INDIA CNN", "NTD", The Russian Government Channel and many others Government and no Government Channel globally, while also on many internet newspaper and magazines. He also had interviewed by the Greek National Television "EΡΤ3" and also the Greek Cretan Television KRETA TV. Since then, he is also giving interviews and gets photographed by many others Media Agencies.