Experimental Courses - Underwater Restorer
Course for the underwater restorer. From the diving licence to the submerged archaeological field. - Istituto Europeo del Restauro (European Restoration Institute)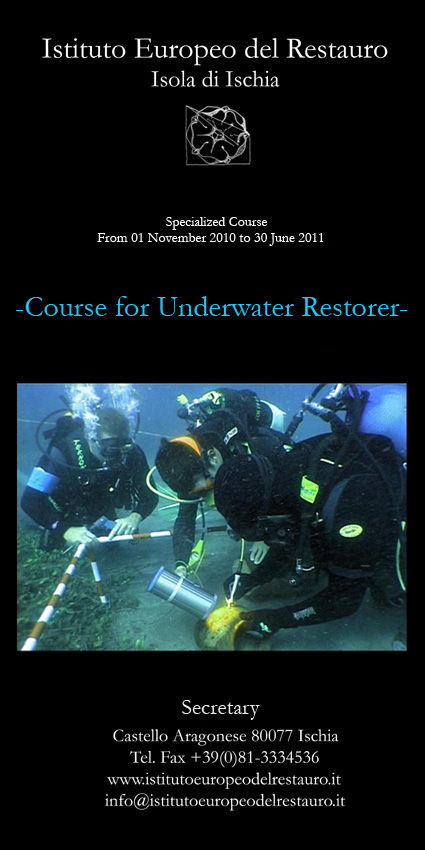 This is an international reference point born from the accord and cooperation of important partners that enhance its scientific and cultural potential: the I.R. Reflectography and Diagnostics Centre for the Cultural Heritage of the -ÜUniversità degli Studi di Milano", the Centre for the Protection of the Cultural Heritage from Harmful Organisms of the -ÜUniversità Cattolica del Sacro Cuore" of Piacenza and Cremona, the -ÜInstitut für Museumskunde Konservierung und Restaurierung von Gemälden und gefassten Skulpturen" of Stuttgart -ÜStaatliche Akademie Der Bildenden Kunste", the University Dating Centre of the -ÜUniversità Milano Bicocca", Pozzuoli Regional Competence Centre for the Development and Transfer of Applied Innovation to the Cultural and Environmental Heritage.

Besides offering an articulated study programme, the Istituto Europeo del Restauro is the place where Italian and foreign realities - not only relating to the cultural heritage preservation but also to the industrial world - meet. Its aim is to promote a synergic relationship between the two sectors, creating also socio-cultural opportunities. Important partners in the industrial field offer their economic, scientific and ethical contribution, supporting the initiatives of the Institution and the young students who are part of it.


The Courses
Course for specialized operators in wood-inlaying ornamentation techniques.
Chemical and Physical analytical methods for examination and restoring of paintings.
Course for operators specialised in the identification of and fight against insects that are a danger to the preservation of Cultural Heritage.
Course for operators specialised in gilding techniques.
Legislation and techniques for the handling of works of art.
Photography of architecture.
Course for specialized operators on the use of laser cleaning/ablation for the conservation of cultural goods.
Course for operators specialised in the photography of works of art.
Theories and techniques of integration works on archaeological mosaic pavements and parietal.
Experimental Courses
Course for the underwater restorer. From the diving licence to the submerged archaeological field

Contact
Castello Aragonese - 80077 Ischia (NA)
telefono e fax +39 081 333 4536
http://www.istitutoeuropeodelrestauro.it/