RESTAURO - Conservation and Restoration
Revista Internacional Del Patrimonio Histórico - The spanish magazine Restauro manages to be entertaining while displaying an absolute scientific rigor since some of the best experts in the world are involved in it. It comes out five times a year and there is always a synthesis of every work translated into English.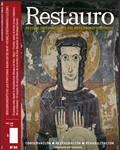 Our aim is to let you know our publication and, if you like, you could assist us with works that you or your department has achieved in recent times, we would be glad to publish them. We are not a major publisher, but we are present in more than 140 specialized bookstores in Spain and our circulation is of 4,500 copies. We have subscribers in many parts of the world and please note that you can also subscribe.

All necessary information (How to PUBLISH?) can be found on our website; http://www.revistarestauro.com/.
If you are interested we can send you a sample of our printed magazine. It is really worth. We hope you can also enjoy all the articles via internet al low cost soon.

Gloria Rodr­guez Doel.
Directora de relaciones internacionales.
internationalgrd@resvistarestauro.com
http://www.revistarestauro.com/
Revista Restauro.